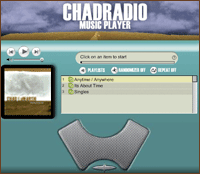 Listen to Chad LaMarsh and other artists online
on the ChadRadio Music Player
(click image on right to open).

(Note: Make sure your popup blocker is turned off. Requires Macromedia Flash.)



Are you in a band and would like your music to play on ChadRadio?

Contact us today!

Cover tunes? We got 'em! Here's a few of many artists you may hear @ a Chad LaMarsh solo acoustic show or full band show: Mellencamp, Matchbox20, Zeppelin, Nickelback, Eagles, Live, Daughtry, Indigo Girls, Fuel, Filter, Sublime, Supertramp, Peter Gabriel, Dave Matthews Band, Santana, Rascal flatts, U2, Def Leppard, Bon Jovi, Counting Crowes, Black Crows, Train, The Doors, Goo Goo Dolls, Maroon 5, Chilipepper's, Journey, Jet, Finger 11, Eve 6, Metallica, Fergie, Pink, AD/DC, NIN, Black Eyed Peas, Gavin DeGraw, Lenny Kravitz, Big & Rich, Ben Harper, Buck Cherry, Coldplay, Collective soul, Jack Johnson, Keith Urban, Lifehouse, O.A.R., The Police, Seal, Stone Temple Pilots, Tim McGraw, and Tonic.